OCEAN FREIGHT
The drop in spot freight rates accelerated during November and the first weeks of December on all major East-West head-haul trades except for the Transatlantic Westbound trade. On the Trans-Atlantic Westbound, trade rates peaked in early November and have since softened slightly to the tune of $50/TEU per week.
Market sentiment has deteriorated on the Asia outbound routes to North America and North-western Europe. This is mainly due to high inflation levels, which have reduced demand in key consumer areas, and Covid-19 lockdowns in China, which hindered manufacturing goods and cargo transport to the ports. Although in recent weeks, the lockdown measures imposed by the Chinese government have eased, it will take several weeks before factories sort out their inbound supply of raw materials and start operating at higher utilization levels.
Spot rates plateauing
In the third week of December, spot rates on the Trans-Pacific Eastbound and Asia-Europe Westbound trades have already shed about 80% from their peak levels, albeit now appear to be stabilizing.
As highlighted in the intro, it is imperative to differentiate between spot and long-term rates. While spot rates will likely continue along a volatile trajectory with significant week-on-week fluctuations depending on how full vessels are, long-term rates are expected to plateau at a higher level than current spot rates.
Plateauing of spot rates is visible below, and the distinct difference in the Trans-Atlantic trade.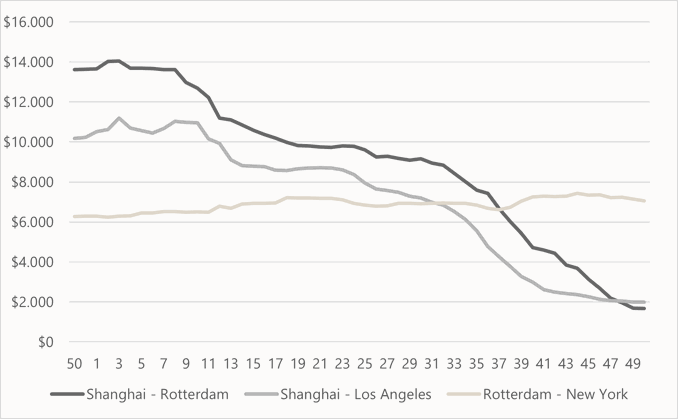 Source: World Container Index assessed by Drewry
Week 50 was the first week since May where SCFI (Shanghai Freight Index) to Europe base ports actually increased from USD 2,094/FFE to USD 2,100/FFE and, in the subsequent week, stabilized at USD 2,098/FFE.
Rate plateauing also marks the best-educated guess for the coming months. This represents a win-win for both freight buyers and ocean carriers. Freight buyers are taking home the stakes and banking significant savings, and conversely, carriers are stopping the downward spiral just in time for the 2023 contract negotiation season and at levels that are still respectable in a historical light.
On a reflective (positive) note, any notion and speculation on carrier collusion seem unfounded. Contrary to what Drewry expected after the quiet summer peak season, carriers have proven to be unable to proactively reduce capacity and counter the freight rate collapse witnessed in the last quarter. Talk of market concentration and the formation of 'dangerously powerful' oligopolistic markets suddenly seems to be history when looking at this recent price evolution. In fact, given that the carriers' cost base has increased substantially compared to three years ago, carriers find themselves painfully close to loss-making territory again on some of the key trades ex Asia.
On the landside, the trend of easing congestion continues, however, with shifting hot spots, especially in the US, where East Coast ports are now hit worse than West Coast ports. At the time of writing this, the winter storm Elliot, one of the most deadly winter storms in history, has eased in the US. Still, the after-effects are expected to be grave and cause significant delays in deliveries and pick-up from terminals and rail ramps.
In Europe, congestion levels are improving across all ports as a logical consequence of less pressure on the landside pain points. Rotterdam remains slightly impacted by high yard density and hinterland connection delays of up to one week.
Blanking programs in full motion
Should one have forgotten about blankings of specific voyages, then they are very much ever-present still. Carriers continue to turn to blankings as the most effective tool for sustaining freight rate levels, with this pointing to some form of continued unstability for shippers across the globe.
As can be seen from the below graph from Xeneta, a total of 499.913 available TEU capacity over a 12 weeks period was impacted by blankings corresponding to a blanking rate of 12,5 % on the Asia-North Europe trade.
It is a similar picture on other key trades, with Asia-Mediterranean seeing a blanking rate of 14,1 %, Asia-US 10 % and 10,4 % for West and East Coast respectively and finally, Trans-Atlantic with 9,1 %.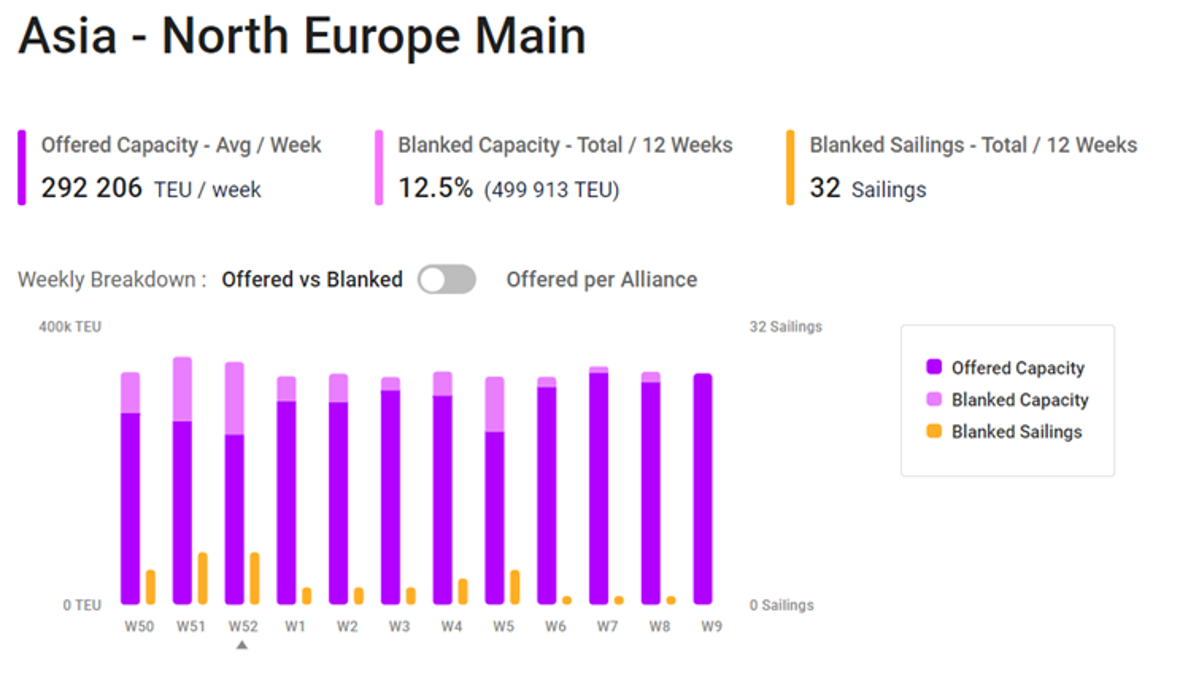 Source: Xeneta
Transatlantic Westbound deep-dive
Contrary to the demand collapse on Asia outbound ocean trades, on the Transatlantic Westbound trade, year-to-date volumes in October were only 1.2% lower than last year's volumes. As highlighted in the introduction, this is very much owed to Trans-Atlantic trade being less consumer-driven vis-à-vis trades ex Asia.
Digging a little deeper, a notable trend is that shippers are increasingly diversifying their sourcing locations in Asia. It is also known as the 'China +1' sourcing strategy, resulting in cargo origins shifting Westwards to South and Southeast Asia, making the Suez routing to the US East Coast more attractive.
Inasmuch as overall congestion levels are more 'healthy' than seen in a long time, issues persist to be ever-present. The congestion at US East Coast ports started in Norfolk and quickly spread to New York and later to Savannah, which got completely overwhelmed in July. Since September, though, the situation in Savannah has rapidly improved, and so has the situation in other East Coast ports.
Vessel congestion, measured in TEU-days, at key US East Coast ports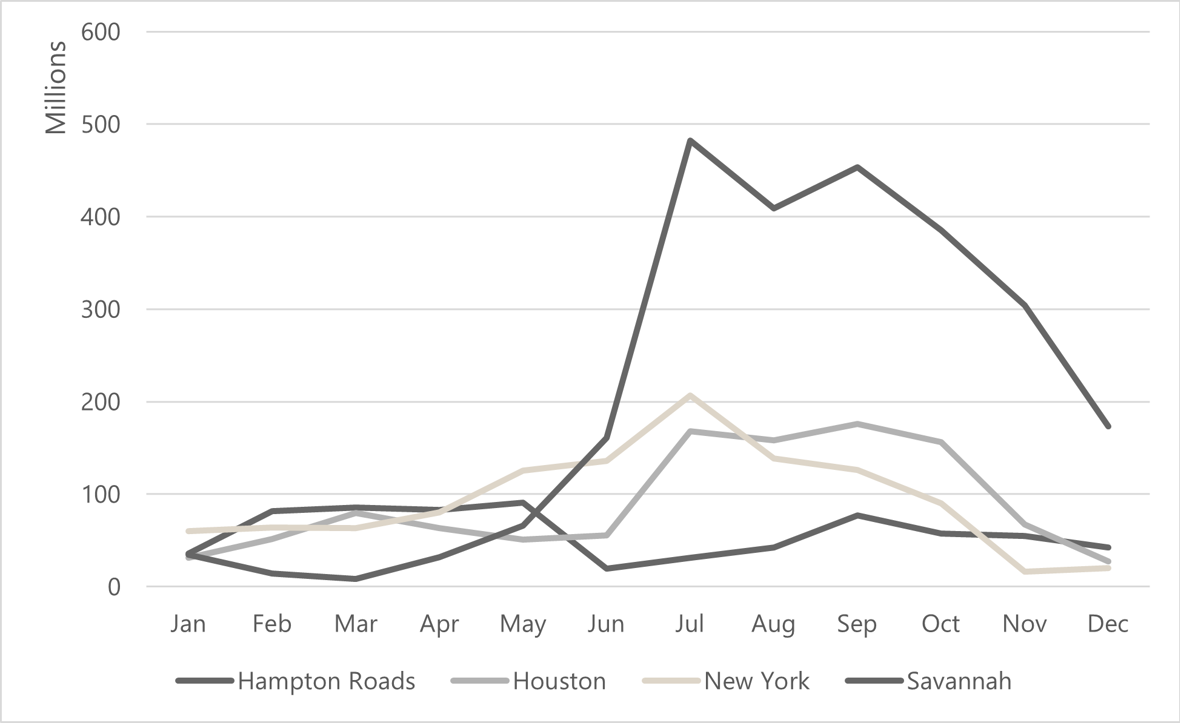 Source: Drewry Maritime Research
Trans-Atlantic rate levels draw in additional capacity
During the first 10 months of this year, some 8.7% extra capacity was made available on the Transatlantic trade (effective capacity, netted of blank sailings) as carriers increasingly wanted to benefit from high rate levels. Freight rates remained high even though vessel load factors fell from an average of 87% during the first 10 months of 2021 down to 79% during the same period of 2022.
Carriers 'blanked' even more sailings in an attempt to sustain high load factors. While in 2021, it was mostly the Alliance blanking sailings, in 2022, the non-Alliance services were the prime target for blankings. Blank sailings appear to have peaked in November, and service reliability in terms of vessel departures is likely to improve in the coming months.
Monthly blank sailings by Alliance (N Europe-N America)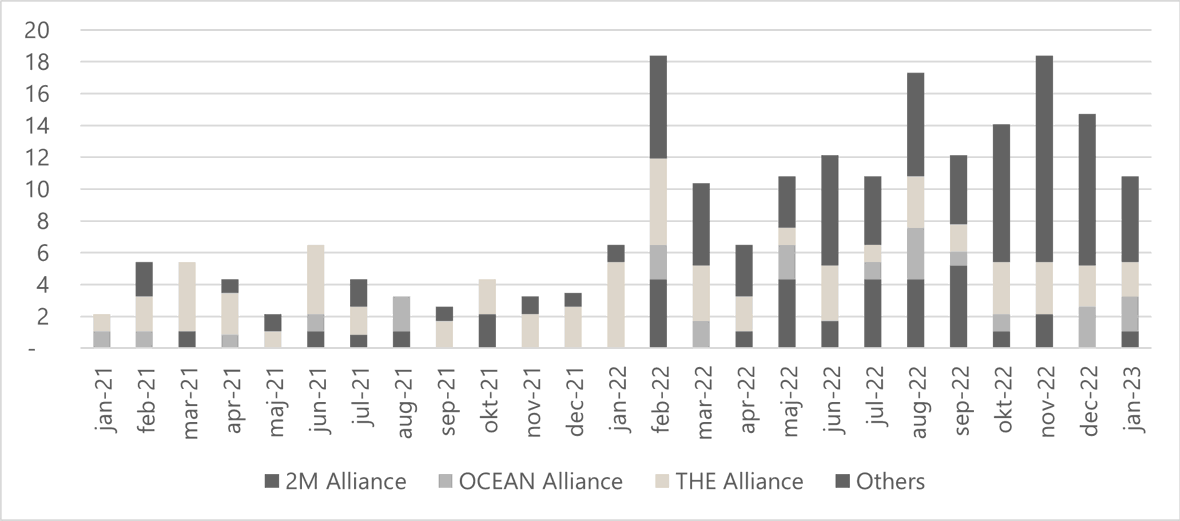 Source: Drewry Maritime Research
In the coming weeks, more capacity will be added to this trade: Ellerman City Liners will commence a Transatlantic service using vessels from its former China-UK express service, while members of Ocean Alliance are gradually replacing smaller ships with 14,000 TEU vessels.
In the context of slumping demand, limited blank sailings, congestion easing and freight rates starting to soften, there is a growing consensus that the Transatlantic will also join the path of rate level moderation during 2023. However, it is not expected to happen at the same pace nor to the same extent as seen in Asia trades.