Reading from its newly launched 2021 Sustainability Report, SGL strongly prioritizes supply chain decarbonization. As the first freight forwarder in Denmark and among the first globally to commit to the ambitious science-based 1.5°C target, SGL continuously develops new carbon-reducing solutions to meet customers' reduction requirements.

Selected tangible low emission solutions to reduce CO2 emissions
SGL has partnered with Neste, the world's largest producer of Sustainable Aviation Fuel (SAF), to provide its customers with a low emission solution with the potential of reducing airfreight emissions by up to 80%.
The low emitting trucking solution significantly reduces road emissions. In partnership with Scania, e-trucking allows customers to maintain their supply routes while shifting to cleaner fuels and technologies on their trucking miles.
SGL is the first freight forwarder in Sweden to provide a fossil-free renewable diesel (HVO100) for all ocean container trucking at no additional cost to its customers.
A new supplement to the existing CO2 report is the option to include non-SGL logistics providers in the calculations, providing customers a complete and consolidated overview of all supply chain emissions on all transport modes - in one
"SGL firmly believes that the best results come from working closely together. That is why, in collaboration and partnerships with our customers, suppliers and other industry leaders like IKEA, Telia and Unilever, we embraced new solutions to accelerate our climate actions in 2021 and will continue to do so," says Martin Andersen, Global Head of ESG & Quality, explaining SGL's strategy to decarbonize customers supply chain.
SGL not only accelerated its momentum within environmental solutions but across the full scope of its ESG (Environment, Social and Governance) activities.
Other highlights from the Sustainability Report
Launched SGL's Low Carbon Logistics services to reduce customers' transport emissions
Joined the Exponential Roadmap Initiative and the subgroup 1.5°C Supply Chain Leaders to drive climate actions throughout global supply chains
Submitted a ten-year emissions reduction target aligned to 1.5°C for validation by the Science Based Targets initiative
Distributed over 500 million vaccine doses delivered for COVAX
Maintained a high level of employee meaningfulness, measured via SGL's yearly Meaningfulness Survey, and this during a year of significant growth and high market volatility
Reducing its own footprint
In 2021, SGL and 12 other companies signed a PPA (Power Purchase Agreement) to support the development of a 70,000 MWh solar park, supplying its Danish locations with renewable energy from 2023. More PPAs are part of SGLs strategy to provide its international locations with renewable energy.
All ESG activities are described in the complete Sustainability Report 2021 found here:
https://www.scangl.com/about/sustainability/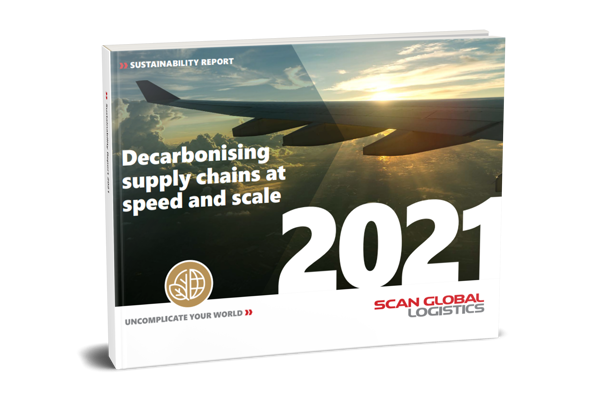 About Scan Global Logistics
Scan Global Logistics is a global full-service logistics provider headquartered in the Nordic, which excels in uncomplicating logistics through tailored solutions made by skilled specialists, proud problem-solvers, and passionate entrepreneurs.
Since 1975, the core of our DNA has been a 'can-do-attitude,' agility, and the willingness always to go the extra mile, and we are not afraid to go left when others go right. For us, every challenge is an opportunity. We go above and beyond to bring anything anywhere – whether by air, ocean, rail or road, or any other mode of transportation.


For further comments or inquiries, please contact:
Martin Andersen, Global Head of ESG & Quality
Tel: +45 3248 0048, email: mara@scangl.com
Mads Drejer, Global COO & CCO
Tel: +45 8742 5742, email: madr@scangl.com
Allan Melgaard, Global CEO
Tel: +45 3248 0045, email: am@scangl.com