Copenhagen, 8 September: Marking a significant milestone in their shared sustainability journey, Alfa Laval and SGL introduce their first electric truck. Manufactured in close collaboration with Scania, a member of the Exponential Roadmap Initiative, like Alfa Laval and SGL, the truck will operate a designated lane between Alfa Laval's manufacturing sites in Sweden and SGL in Denmark. The truck will enable CO2 savings of 5.3 tons annually. The emission reduction will help Alfa Laval achieve its goal of becoming carbon neutral by 2030, with a target of net zero for scopes 1 and 2 and a 50% reduction for scope 3. 
Per Sandberg, Vice President Operations, Head of Parts Distribution and Logistics at Alfa Laval, says:
'Alfa Laval has ambitious sustainability goals. To succeed, we need to collaborate with the right partners across industry disciplines, and this is an excellent example where we, with joint efforts, will reduce CO2 emissions from transportation, an important part of our carbon neutral transformation.'
Steen Søgaard, Regional CEO Nordics, expands on the partnership's joint efforts:
'We are excited to embark on the net-zero journey in close collaboration with one of our key customers, Alfa Laval. With our strong partnership, the electric truck was a natural next step to develop our business as we share the joint target of CO2 emissions reductions.'
Partnership for sustainable transports
Close collaboration across industries and supply chains is essential to reducing CO2 emissions and central to SGL's sustainability strategy. 
SGL and Alfa Laval have science-based targets aligned with limiting global warming to 1.5°C. Alfa Laval has committed to achieving net-zero emissions for scope 1 and 2, reducing scope 3 emissions by 50% by 2030, and achieving net-zero emissions across all scopes by 2050. SGL commits to halving all emissions before 2030 and reaching net-zero emissions by 2050 across all scopes. The initiative also supports the UN Sustainable Development Goals (SDG) 13 'Climate Action' and 17 'Partnerships for the goals', which are goals included in both companies' sustainability strategies.
Scan Global Logistics already provides customers with sustainable logistics solutions offering CO2e reductions of 50-100% through changes to transport modes, switching to low-emissions fuels and optimising customers' logistics setup.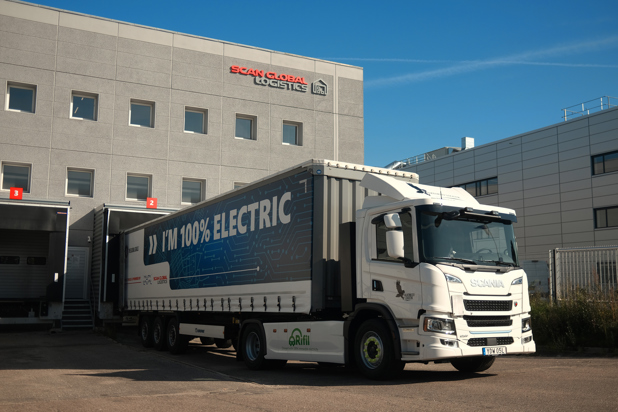 One truck, 5.3 tons yearly CO2 reduction
During the first half of 2023, Alfa Laval shipments on the designated lane from Sweden to Denmark amounted to more than 100 tons of goods, equal to approx. 5.3 tons of yearly CO2 emissions. In comparison, according to the International Energy Agency (IEA), the global average energy-related carbon footprint per person is approx. 4.7 tons of CO2*. In other words, changing the fuel of one truck from running on diesel to 100% renewable energy reduces more than one person's CO2 emissions per year, proving the tangible benefits of sustainable logistics solutions.
Martin Andersen, Global Head of Sustainability | ESG and Quality expands:
'This is a new way of doing business. Normally, Scania does business with trucking companies, not transport providers. I'm very happy and proud that we have succeeded in this project. We want to enable the scaling of electrified heavy road transportation to be emission-free at a competitive cost while showcasing its feasibility. As partners of the Exponential Roadmap Initiative and part of the 1.5°C Supply Chain Leaders group, we are committed to actively co-creating sustainable solutions to decarbonise global supply chains with like-minded companies like Alfa Laval.'
Depending on the weather conditions, fully loaded, the electric truck can drive more than 150 km per charging, sufficient to go back and forth between origin and destination. The electric truck will be charged with certified renewable energy.
Did you know this about electric trucks?
Zero emissions, reducing the carbon footprint
Noise reduction compared to conventional trucks
Same speed, uninterrupted delivery
*) Calculations based on airfreight transport
Source: https://www.iea.org/commentaries/the-world-s-top-1-of-emitters-produce-over-1000-times-more-co2-than-the-bottom-1